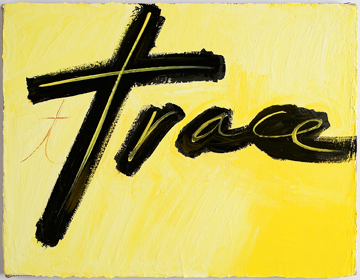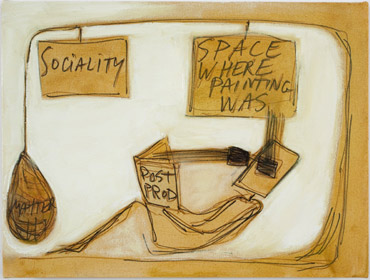 Mira Schor is a New York-based artist and writer noted for her advocacy of painting in a post-medium visual culture and for her contributions to feminist art history.
Schor's work balances political and theoretical concerns with formalist and material passions. Her work has included major periods in which gendered narrative and representation of the body have been featured; in other periods the focus of her work has been representation of language in drawing and painting. The central theme in recent paintings is the experience of living in a moment of radical inequality, austerity, and accelerated time, set against the powerful pull of older notions of time, craft, and visual pleasure.
Schor received her MFA in painting from CalArts in 1973. She is the recipient of awards in painting from the Guggenheim, Rockefeller, Marie Walsh Sharpe, and Pollock-Krasner Foundations and of the College Art Association's Frank Jewett Mather Award in Art Criticism. Schor's work has been included in exhibitions at the Hammer Museum, P.S.1, The Neuberger Museum, The Jewish Museum, and The Aldrich Museum. She is represented by Lyles & King Gallery in New York City and by CB1 Gallery in Los Angeles.

Schor is the author of Wet: On Painting, Feminism, and Art Culture, editor of The Extreme of the Middle: Writings of Jack Tworkov, and co-editor of M/E/A/N/I/N/G: An Anthology of Artists' Writings, Theory, and Criticism and M/E/A/N/I/N/G Online. To read Schor's recent writings about contemporary art and other cultural events, including films, poetry, and political events, click here.
Schor was awarded a Creative Capital / Warhol Foundation Arts Writers Grant in 2009 to develop A Year of Positive Thinking, a blog which includes writings on contemporary art, culture, and politics to accompany and provide a positive counterpoint to the publication of her 2009 book A Decade of Negative Thinking: Essays on Art, Politics, and Daily Life. She is an Associate Teaching Professor in the MFA Fine Arts Program at Parsons The New School For Design.
Schor participated in ARTspace's Annual Distinguished Artists' Interviews at the 2013 Annual College Art Association Conference in New York. She was interviewed by Stuart Horodner, Artistic Director, Atlanta Contemporary Art Center. To watch click here.
In 2017 Mira Schor was elected to the National Academy.