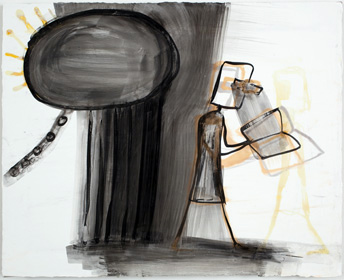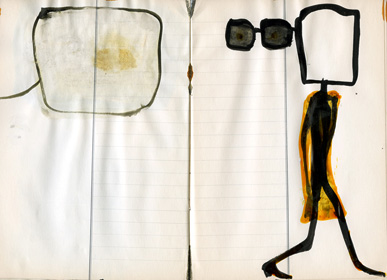 Chthonic Garden, an exhibition of new paintings, CB1 Gallery in Los Angeles October 19-December 8, 2013.

Abstract Marriage: Sculpture by Ilya Schor and Resia Schor, curated by Mira Schor, Provincetown Art Association and Museum, Provincetown, MA, August 16-September 29, 2013. A review by Cate McQuaid, "Abstract works from husband and wife," appeared in The Boston Globe. (PDF) For information about the catalogue, which includes essays by Mira Schor, Glenn Adamson, and Margaret Olin, please contact Mira Schor or PAAM.
News for 2012:
Mira Schor's work will be included in To be a Lady: a century of women in the arts, a group exhibition at 1285 Avenue of the Americas Art Gallery, NYC, September 24, 2012-January 4, 2013.
Mira Schor organized "Art Practice, Activism, and Pedagogy: Some Feminist Views," a conference at Parsons The New School for Design, April 5, 2012, with speakers including artists A. K. Burns, Audrey Chan, Andrea Geyer, Susan Bee, Maureen Connor, Ulrike Müller, Caitlin Rueter and Suzanne Stroebe. Click here to view Schor's introduction to the conference and here to view her presentation.
"MIRA SCHOR: 'VOICE' AND 'SPEECH'", Schor's exhibition at Marvelli Gallery in New York City (March 29, 2012 through May 5) was reviewed in the New York Times, The Huffington Post, Culture Catch, and Two Coats of Paint, and it was a critic's pick on artforum.com. Interviews appeared on Bomblog, Hyperallergic, artinfo and Culture Catch.
In December 2011, Mira Schor and Susan Bee published M/E/A/N/I/N/G Online #5: 25th Anniversary Edition. This edition includes writings by over seventy artists, art historians and poets, many clearly inspired and energized by the Occupy Wall Street movement, and continues M/E/A/N/I/N/G's commitment to maintaining an open, non-profit space for independent writing about art.
In January 2010, Schor was awarded a Creative Capital / Warhol Foundation Arts Writers Grant to develop A Year of Positive Thinking, a blog which includes writings on contemporary art and culture to accompany and provides a positive counterpoint to the publication of her book A Decade of Negative Thinking: Essays on Art, Politics, and Daily Life. Schor's most recent writing about contemporary art and other cultural events, including films, poetry, and political events can be read at ayearofpositivethinking.com. She has a one-person exhibition, Mira Schor: Paintings from The Nineties to Now at CB1 Gallery in Los Angeles, November 20, 2010–January 9, 2011. Her work was included in Shifting the Gaze: Painting and Feminism, at the Jewish Museum in New York, September 12, 2010– January 30, 2011.